This is a Sponsored post written by me on behalf of
Bulbs. Dig, Drop, Done.
for
SocialSpark
. All opinions are 100% mine.
Fall is in the air and it's time to work on our Fall gardening to get things ready for Spring 2013. Most people think about planting flower bulbs and flowers in early Spring but if you want flowers to be blooming at the start of Spring, you need to plant your flower bulbs now!
Now that Fall is here, we have been planning out all of the things that we need to do now so that our garden looks beautiful come Springtime. I found a great web site online called
Curbside Chaos
that is helping us to learn everything that we need to know about gardening.
On their site they had a big sweepstakes a few months ago and one lucky winner won a yard makeover plus a visit from Taniya Nayak. I watched the YouTube video on that and was really impressed with how that backyard makeover turned out. Absolutely gorgeous! I love that the home owner chose some lillies and gladiolas for her backyard which are always pretty. You need to check out the video at
http://youtu.be/MqeAi_su2ok
. If I would ever win a $5,000 yard makeover, I could get a pretty solar bird bath and put it into the center of a beautiful flower garden. I like bright and colorful flowers in yellows, pinks and purples.
They are also doing a special fundraisers where if you send a Tweet on Twitter they will donated $1.00 to Rebuilding Together, the nations leading non-profit organization that works to preserve affordable home ownership & to
revitalize older communities. You can Tweet using the hashtag #CurbsideChaos.
Anyway, back to my Fall gardening plans! I am a big lover of Spring blooming flowers and I live in the North East. I used their Garden Guru Tool (bottom left side of the page on their site) to find my country, state and planting zone. I learned that Daffodils and Crocus' are good flowers for me to plant right now for blooming come early Spring. They also gave me planting instructions too! Yeah!

Are any of you planting anything this Fall? I would love to invite you to go over there and try out their Garden Guru Tool to see what you could be planting right now so that you will have a pretty garden come Springtime too! What kind of flowers do you like?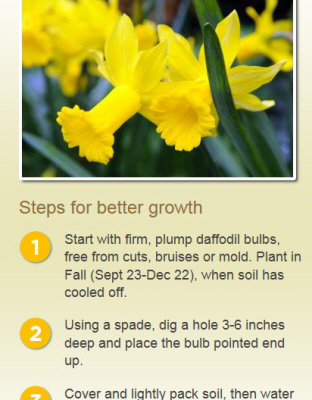 I also learned a great gardening tip while I was over there too! Did you know that flower bulbs are not just for outdoor gardening? You can plant them in planters and place those planters indoors! Isn't that cool? In addition, you can give potted flowers (containing potted flower bulbs) as gifts too! I like to give those types of gifts around Easter and Mother's Day.
I was over there looking at their Garden Ladies too and found one lady named Evelyn that I really identified with. She has a wild animal problem making a mess of her garden and I learned that there are flowers that you can plant to help keep pesky critters away! Yeah, that is way cool! I need to do that for our groundhog and deer problem.
Make sure you
visit www.digdropdone.com to learn more
about Fall gardening and the yard makeover! Happy Planting!