This is a Sponsored post written by me on behalf of
Scotts Miracle-Gro
for
SocialSpark
. All opinions are 100% mine.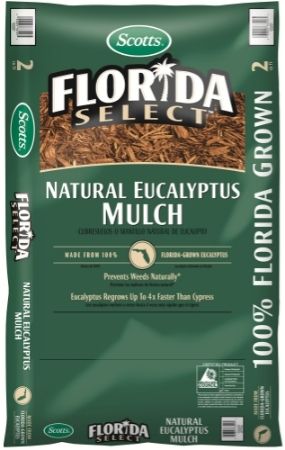 During the Spring, Summer and Fall season, hubby and I spend a lot of time outdoors. We have 2 flower beds in our front yard, a flower bed in our back yard and 1 small & 1 large vegetable garden bed. We love being outside and this year we are really excited about expanding and beautifying our outdoor spaces.
Our Spring flowers are doing really nicely this year and the only thing left to do is add some mulching. I need to get out to my local home improvement store and pick up some additional
gardening supplies
as we want to try some
sustainable gardening
this year.
My brother lives in Florida and is interested in using the
Scotts Florida Select Natural Eucalyptus Mulch
which sounds really cool. This Natural Eucaplyptus Mulch is substainable, natural and grown in Florida. It is substainable because it grows back 4 times faster than Cypress. It is made from plantation-grown Eucalyptus trees and is guaranteed to be free of waste and fillers.
What is really nice about this type of mulch is that it helps to keep weeds away, concerves soil moisture and helps to moderate your soil's temperature. Since it is locally grown in Florida, it helps to support the local and national economy and buying U.S.A. made products is important to me.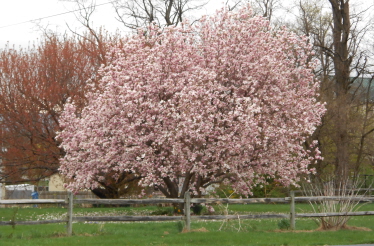 It's really easy to use and all you need to do is spread it 3" deep. They do recommend that you don't put it up against your house foundation, tree trunks or other wood structures. You can use it near those things but don't put it up right against them.
You can use the mulch around trees, in your flower beds, around your bushes or in your vegetable garden after your plants have sprouted out of the ground. I had never thought about using it in my veggie garden but that is a great idea for sure!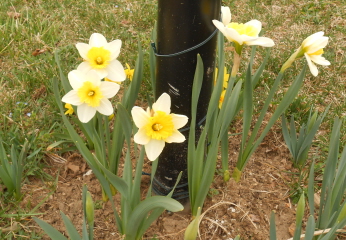 A 2 cu. foot bag will cover the following area: 2" depth it will cover 12 sq. ft. of bedding, 3" depth it will cover 8 sq. ft. of bedding and at a depth of 4" it will cover a bedding area of 6 sq. ft. I love that I don't need a truck load of mulch and can just buy a few bagfuls of it as I need it.
Since I don't live in or near Florida, I am looking to purchase the
Scotts Nature Scapes mulch
which comes in 3 colors: black, red and deep forest brown. I think we will go with the deep forest brown as I think that looks more natural. This mulch is natural and comes in a variety of textures. It helps to maintain moisture, prevent weeds & create a nicely looking groomed landscape all year long! Fantastic!
As you can see from my photos today....my flower beds still need some work! The flowers are beautiful and my blooming trees are beautiful but they definitely need some multching done. I think I will add that to our gardening to-do list for this weekend.
Do you like to garden? If so, are you a flower garden, fruit garden or a veggie garden type of person? Do you use mulch and if so, do you have any mulching tips to share with us?