This is a Sponsored post written by me on behalf of
ZzzQuil
for
SocialSpark
. All opinions are 100% mine.
I usually have no trouble sleeping. With crazy busy days like I have, usually when I lay my head down, I am out. But there are a few nights that I have difficulty falling asleep or I have to get up in the middle of the night and those are the times I find myself tossing and turning. I am not one to take sleep aids normally, but sometimes I wish I had one! It is great to know that there is a product from a manufacturer that I know and trust that has a non habit forming product that I can use occasionally.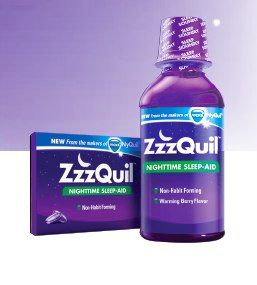 ZzzQuil
is made by the makers of Vicks NyQuil, for when your only symptom is occasional sleeplessness. It's not for colds, it's not for pain, it's just for sleep. Nice! Its active ingredient, diphenhydramine HCI, helps reduce the time it takes for you to fall asleep when you have difficulty falling asleep, so you can sleep soundly and wake up refreshed. Plus it comes in a Liquid (Warming Berry flavor) and LiquiCap® forms. I like having a choice. It is intended for adults and kids over 12 so you know it has to be safe when used as directed. Plus it is from Vicks, so I feel good knowing that they have delivered effective relief for years to me and my family.
I received a bottle of the liquid to try out. It is in the familiar triangular packaging we know and love. The other night it was very warm in my room and I could not get comfortable so I was tossing and turning. I thought - perfect time to try out the new ZzzQuil. The flavor is what you expect from a liquid of this type. Kind of medicine tasting, but not as horrible as some I have had to take. I took the recommended dose and lay down to wait. I did not have to wait too long. Soon, I was feeling relaxed and I was asleep pretty quickly... maybe 20 or 30 minutes later. I don't really know, since I was sleeping. lol In the morning, I woke up feeling good. I slept all night and I had no medicine head hangover. That is a huge plus! Not bad.
If you have occasional sleeplessness, ZzzQuil might be something that you would want to try out. Take the #ZzzQuilNight Challenge and tweet about it using the hash tag #ZzzQuilNight. We want to know how you felt using it. Also stop by the ZzzQuil Facebook page and give them a like and a shout out. More information about ZzzQuil is available at
www.zzzquil.com
.
Hope this helps you to get a good nights sleep too! Let us know!