This is a Sponsored post written by me on behalf of Whitney Farms for SocialSpark. All opinions are 100% mine.
How many of you are planting a garden this year? I know for us, we plant one every year! This year we are going to double our garden size and go all organic. Last year we got hit hard by hurricane Irene which really damaged our garden so we need to give it an extra boost this year.
We were checking out a company called Whitney Farms® and looking at their organic soil and their organic plant food as we think it's the boost our garden needs this year. Their products are all organic with no synthetic fillers or chemicals.
The company has been in business for over 25+ years so they know their gardening products and I think this is exactly what we need. We learned that their products have no manure smell, low to no dust, is easy to apply, contains beneficial microbes, and is specially designed to provide your plants with both macro and micro nutrients that they need to thrive.
I think using both the organic soil and the organic plant food would give us a bigger crop and it would definitely help us to consume healthier fresh produce since it is indeed organic. We don't want any nasty chemicals in our home-grown food supply.
I am really looking forward to getting our garden started next weekend as we will be planting green peppers, chili peppers, lettuce, tomatoes, cherry tomatoes, cantaloupes, green beans, lima beans, squash, zucchini, onions, carrots, broccoli and some cauliflower. What will you be planting this year?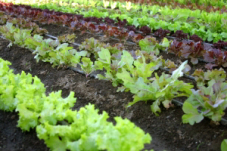 If you would like to try the Whitney Farms organic soil and organic plant food, right now they have a money-saving coupon on their web site that will save you $3.00 which I think is fantastic. I am definitely going to be using my coupon! You can head on over there today and get your coupon too!
I would love to hear about your gardening plans for this year or any gardening tips that you can share with us. Please feel free to leave us some tips and comments below. Thanks!